Honorees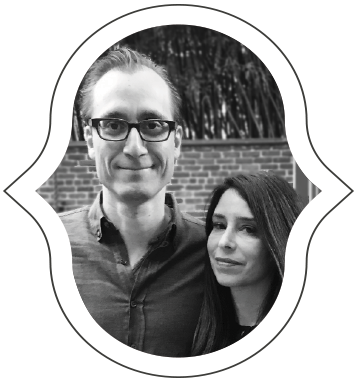 Hillary Blumberg & Alex Ginsburg
Hillary has long devoted her public-sphere energies to educational and children's causes. She serves on the Children's Board at Columbia / Columbia Doctors Hospital, and is a trustee on the Board of Directors for the Stephen Gaynor School.
Hillary is also actively involved with the Children's Museum of Art and the Brown University Artemis initiative, a summer program that introduces coding to eighth-grade girls from low-income families.
After graduating from the Rhode Island School of Design, Hillary worked as a designer in the boutique housewares firm of Swid Powell, and later as  Design Director and Senior Vice President for Martha Stewart Living Omnimedia.  
Alex is a managing director at Two Sigma Investments, where, for the past fifteen years, he has trained and managed researchers to recognize predictive signals from disparate financial market datasets.  Alex previously worked in London and New York for D. E. Shaw & Co.  He attended University of Michigan and is a graduate of Amherst College.
Hillary, Alex, and their two daughters, Lola, 12, and Liv, 9, have been staunch supporters of New York Hebrew from the very beginning — an expression of their strong belief in investing towards future generations of Jewish leaders.
Jennifer Muhlrad
Jennifer has served as president of Montana Datacom since its founding, and with over 20 years of experience, Jennifer is recognized as an industry leader. Under her leadership Montana has grown significantly to become a leading wire and cable distribution company in the Tri-State area. Raised in Goshen, NY, Jennifer attended college at Brandeis University. She now lives in New York City with her daughters Dalya and Zoe. In her free time, Jennifer enjoys the outdoors and travelling.
When searching for a local Hebrew School her daughters would enjoy, Jennifer discovered New York Hebrew. Her daughters have been prize pupils for three years now, and Jennifer continues to be a key support for the school and community.
Michael & Irina Sinensky
After Michael graduated from NYU Stern Business School in 2000, he decided to pursue his passion for restaurants and bars. 15+ years of successful entrepreneurship and 20+ locations later, Michael remains an entrepreneur at heart.
Michael has proven himself to be a mainstay of New York City hospitality. When Hurricane Sandy devastated the Rockaways, Michael co-founded FriendsOfRockaway.org, a non-profit organization that has since given assistance to hundreds in need.
Michael sits on the Government Affairs Committee for the New York City Hospitality Alliance and was recently named to the Board of the American Museum of Natural History.
Irina is a wife, mother to three beautiful children, and, for over ten years, a highly-regarded NYC dentist. Irina discovered her Jewish identity upon immigrating to the US from the Ukraine in 1990, and has since become a pillar of the community.
Arielle and Joseph, two of the Sinensky's children, have attended New York Hebrew for four years. With their wonderful passion for life, many warm friendships, and their inspirational willingness to go above and beyond the call of duty, they continue to be strong advocates for New York Hebrew school and community.
Leah Schapiro
Jewish Educator Award
Morah Leah has been an important member of the New York Hebrew staff for the past five years, teaching a Judaica class and levels White and Red in the acclaimed Aleph Champ program.
Leah is the seventh child in a family of nine — hence her taste for a perfect combo of kids and action! She grew up in Brooklyn and attended the Beth Rivkah school-network, spending her summers at children's camps in Canada, North Carolina, San Francisco, Detroit, Mexico and Russia.
Morah Leah received her teaching credentials in an educational course in Israel before continuing her education at the Beth Rivkah Division of Higher Learning.
Today, Morah Leah is Algebra teacher in Bnos Chomesh High School and organizes a weekly teen-enrichment program in Westchester, NY.
Over her five years with New York Hebrew, Morah Leah brought the Torah to life in her distinctive creative style, deeply impacting her 500+ students. We are deeply thankful to Morah Leah for all that she's done and wish her much continued success!